Restaurants
San Jose has a wide variety of restaurants; everything from Pizza Hut to Thai and Japanese food! Students will have a wide variety of dinning options from typical Costa Rican cuisine to Peruvian food!
San Jose Restaurants
Tin Jo
One of the best Thai restaurants in San Jose is Tin Jo. Located downtown, this restaurant is very busy on the week-ends and has probably the best Pina Coladas in the city! Here you can order anything from Sushi, to Thai curry, to Chinese (a nice change from typical Costa Rican beans and rice).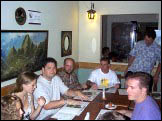 Machu Pichu
This fantastic Peruvian restaurant in San Jose is based on the legend of the famous Machu Pichu mountain in Peru and serves fantastic ceviche, sea bass, calamari, and shrimp.
Enjoying their great spread of seafood is a wonderful way to start your vacation in Costa Rica.
Costa Rican Cuisine
Typical Costa Rican food consists mainly of white rice and black beans. Fruits and vegetables make up a great portion of the diet as well. The typical breakfast is "Gallo Pinto", which is Spanish means speckled rooster. It is a mixture of black beans and white rice cooked together in a skillet. It is usually served with a fried egg and toast or tortillas.
For lunch, Costa Ricans usually eat a "Casado" which is white rice and black beans, but here they are cooked separately. You get your choice of meat (carne), eggs (huevos), chicken (pollo) or fish (pescado. When it is the "Plato del Dia" or Plate of the Day, you also usually will get a salad, vegetables or potatoes, a drink and sometimes a dessert, usually ice cream or flan. "Casado" literally means "married" and that word is used because it's the type of food you get when you are married!
Costa Rica is also popular because of its coffee plantations and banana fields. Tours are offered for both, and are usually very entertaining and informative. There are a great many coffee shops and just about anywhere in the country will serve you a decent cup. The most popular way to drink coffee in Costa Rica is "Cafe con Leche", or coffee with milk. Normally it is whole milk and it is served hot.