Nauyaca Falls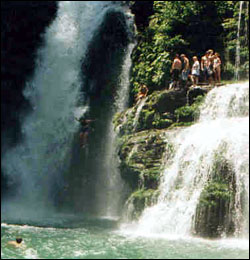 In the hills between San Isidro el General and Dominical, is one of the country's most spectacular waterfalls, Nauyaca falls. The falls are the highest and largest in the entire country with three levels crashing down over 150 feet into a number of different swimming pools at the bottom. The area surrounding the waterfall is lush and tropical with an abundance of different species of animals.
To reach the falls form the road one either has to hike, or horseback ride the 6 kilometers through the forest and country side. The area is a watershed for the plateau above and during the rainy season the amount of water in the falls can truly be impressive. To fully explore and experience this natural wonder of Costa Rica, it is recommended that you take a guided horseback tour.
One such tour is conducted by Señor Braulio Jiménez, or more commonly known as Don Lulo. He and his family have been guiding tours to Nauyaca falls since 1992 are well versed in the types of local flora and fauna. The total trip last six to eight hours and begins at 8:00am at the house of Don Lulo. Included in the tour are breakfast, lunch, bilingual guide and well trained the reliable horses. Because of their familiarity with the local region, Don Lulo and his sons not only know the different types of plants and animals in the area but where the best places are to find them. Depending on the size and interest of a group, the tour can be customized to particular interests.
It is possible to reach the jumping off point of the tour in just over three hours from San Jose. It is thirty minutes from San Isidro and ten minutes from Dominical. For those wishing to book a tour it is recommended that they contact the Jiménez family as far in advance as possible at 771-2003 and either stay the night before in San Isidro or in Dominical. When planning a trip to the Nauyaca falls make sure you bring a change of cloths, swim trunks, long pants for the ride and a passion for adventure. The Nauyaca falls is by far the most visually stunning and picturesque waterfall in all of Costa Rica and quite possibly in all of Central America.