Surf and Spanish Programs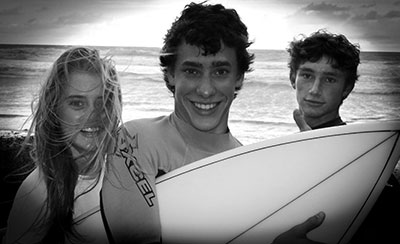 Costa Rica is world famous for its incredible surf and has become a premier surfing destination. Costa Rica is also one of the most popular destinations in Latin America to learn Spanish. ISLS was the first Spanish Institute to combine these two popular activities. Students attend Spanish lessons in the morning and then are free to surf in the afternoons and weekends.
We currently have two distinct destinations for those wanting to learn Spanish and surf; Playa Dominical and Playa Tamarindo. These locations are very different and offer students two distinct options when it comes to Surf and Spanish. When considering a Surf and Spanish Program and destination it is important to take into consideration what level of surfer you are. Spanish classes at both our beach Spanish Institutes in Dominical and Tamarindo will give students a great language experience and will accommodate any level of Spanish. Beginner and low intermediate surfers should consider our Playa Tamarindo program. Those that are more experienced and want big waves and big challenges should look at Playa Dominical. This does not mean that advanced surfers will not be happy in Tamarindo or that beginners cannot learn in Dominical, it is just that they are different beaches.
---
Playa Dominical Surf Program
Our Spanish Immersion Center in Playa Dominical is located on the Central Pacific coast of Costa Rica in a tropical rain forest. The town is very small, only 600 permanent residents. It is surrounded by forest and is more off the beaten path. The beach in Dominical is right in front of the town and is the most consistently big wave beach in Costa Rica. Year round this beach break is overhead and higher and there is a river mouth that gives both lefts and rights. There are a number of smaller breaks at beaches both north and south of the town. Some of these beaches are: Dominicalito, Hermosa, Matapalo, Uvita and Ventanas. For more information about the surf in Playa Dominical take a look at our Dominical Surf page.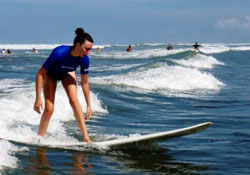 The Surf Program can be added to any of the existing Spanish Immersion programs offered at the ISLS Playa Dominical Immersion Center. The price of the program is $165/week and consists of board rental and two, two hour surf lessons. This is a great program for surfers of all ability levels. Our instructors are all certified lifeguards and work with the local association to keep the beach at Dominical one of the safest in Costa Rica. For more advanced surfers who do not need lessons, we also have weekly board rentals. The price of the board rental depends on the type and quality of the board. For more information, please Contact Us.
---
Playa Tamarindo Surf Program
Playa Tamarindo is a world famous surf destination and the ISLS Spanish Immersion Center in Playa Tamarindo is perfect place to learn Spanish and surf on Costa Rica's "Gold Coast." Tamarindo beach is a great place for beginners as well as more advanced surfers and within a few miles up and down the coast are some of the best advanced surf breaks in the country.
Playa Tamarindo is a long white sand beach which is great for both swimming and surfing. Tamarindo beach, along with Playa Grande, make up the Tamarindo Bay, which in total is more than 3 miles of beaches. The whole Guanacaste area is filled with great surfing beaches besides Tamarindo and Grande. There is the famous Witches Rock, Langosta, Avillanas and Negra, to name a few. Check out our Photo Page with pictures of real students surfing the waves in and around Playa Tamarindo.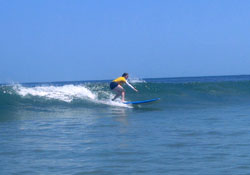 We have Programs and Packages for every level of ability, interest and pocketbook. We have a one day Discover Surfing Program that allows students who have never surfed before to find out if surfing is for them. We have our 2 week Beginners Program, which is our most comprehensive and popular option with students. Our Intermediate/Advanced Program is the only one of its kind in Costa Rica to give students two surf trips a week, 2 surf lessons a week and video analysis of their lessons. We have our Kids and Family Program that allows children of all ages and their parents to learn to surf as well as instructing them on beach safety. We also offer a 3 day Introductory Package, Weekend Surf Packages and a Boogie Boarding Program.
For more information about these options, please Contact Us.