Medical Spanish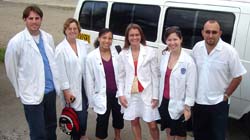 Over the past 21 years ISLS has developed one of the most innovative and intensive Medical Spanish programs in all of Latin America. We were actually the first Immersion Spanish Institute in the world to offer Medical Spanish. In 1996 we worked closely with Dr. Harold Drayton at the University of Texas Medical Branch at Galveston to set up an immersion program for his medical students. Since then we have continued to improve and refine our program. We have also introduced some new and more intensive Medical Rotation options to our catalog.
In Costa Rica we have three locations where we do our Medical Spanish Immersion Programs; Arenal, Playa Dominical and Turrialba. Students participating in the Medical program will receive specific in class lessons regarding medical terminology, patient interviews and anatomy. Also, there is at least one clinical visit or patient interaction or shadowing opportunity. The type of activity depends upon the program, location and availability of options.
The four additional hours/wk of class time will be dedicated to teaching specific medical vocabulary as well as practice with real life medical situations such as patient interviews and family consultations. With medical specific text and materials along with exercises and classroom activities students will gain an understanding of how to deal with patients in everyday situations. The medical program takes place in the afternoon and is in addition to the four hours/day of Standard or Intensive Spanish programs in the morning.
Each week students will also have a medical themed activity or patient interaction. The type and schedule of activities is dependent upon the campus you choose. Some examples of the activities available are: visit to a local private clinic, visit to a senior hospital, participation in a community health outreach, medical interviews with local host families, visit a local pharmacy and ride along in a local ambulance. Which opportunities are scheduled is entirely up to the school and program director. They will consider a student's preference, but theirs is the final decision.
We believe this combined approach of in class exercises and training along with out of class exposure to real medical situations and volunteer opportunities is the best learning approach. All of this is in addition to the regular lessons in Spanish each day and the immersion of living in a Spanish speaking country.
We have developed our own comprehensive medical curriculum that will be handed out to all students in the program. Medical Spanish Program students will be given daily vocabulary and activities designed specifically to deal with medical terminology and situations. Students will also have additional homework assignments that will help reinforce the lessons learned in the classroom.
Over the years many doctors, nurses, medical students, paramedics and emergency technicians have attended this program with a great degree of success. Numerous medical schools through out the US accept this program for credit and recommend it to their students.
The following are just some of the Medical Schools that have accepted this course as a Study Abroad Elective for their students.
University of Colorado Health Sciences Center
University of Texas Medical School in Galveston
University of Texas Southwestern Medical School in Dallas
New Jersey Medical School
NYU's Mount Sinai School of Medicine
Michigan State University Medical School
University of Tennessee Medical School
NYU School of Medicine
Temple University School of Medicine
Vanderbilt School of Medicine
University of Virginia School of Medicine
Below you will find the program description and course outline for all three campuses in Arenal, Turrialba and Playa Dominical. The cost of the medial program is in addition to the Standard or Intensive Spanish program price. The cost of lodging is additional too. For complete program costs, please check out our price page. If you have any questions about these programs please feel free to contact us at any time. We very much look forward to hearing from you.
---
Medical Spanish program, Arenal
Contact: Dr. Sergio Arias Bonilla
Location: Clinica Sanar Consultores, La Fortuna, Costa Rica. This clinic is located in the center of town.
Program Overview
Dr. Arias is our Medical Program Preceptor and owner of Clinica Sanar Consultores. The clinic includes an ambulance service and a pharmacy. Students will have access and exposure to all of these different aspects of the clinic
In Arenal, all of our program options are private lessons, there are no group classes, unless you come together with other students, are of the same level and make special arrangements in advance. There are four options: 1. 16 hrs/wk of Regular Spanish + 6 hrs/wk of clinical time and lessons. 2. 20 hrs/wk of Regular Spanish + 6 hrs/wk of clinical time and lessons. 3. 10 hrs/wk of Regular Spanish + 10 hrs/wk of Clinical Shadowing. 4. 20 hrs/wk of Clinical Shadowing. All lessons, including those in the clinic are done individually. The regular private Spanish lessons take place in your host family house.
Intensive Clinical Rotation Options
For students who need more clinical hours, we offer two Super-Intensive Clinical Rotation options at our Arenal location.
10 & 10 Private Spanish & Rotation
Private Medical Rotation (20 hrs/week)
To participate in one of these options, you must have an intermediate level of Spanish. We will schedule a telephone evaluation with our program director before you are allowed to sign up. These programs have very limited availability, so advanced registration is required.
Medical Spanish program, Playa Dominical
Contact: Dr. Mauricio Esquivel Gamboa
Location: Clinica Uvita at the Dome Plaza
Address: Uvita, Bahia Ballena, Osa, Puntarenas
Program Overview
In Playa Dominical you can choose to combine 16 or 20 hrs/wk of group Spanish lessons with 4 hrs/wk of medical Spanish lessons + 1 medical specific activity. The school has a mock clinic on campus and host family members come to be interviewed by students.
Students attending the Medical Program for two or more weeks will also have the chance to participate in a community medical outreach program or visit Dr. Gamboa's private clinic in the nearby town of Uvita. The community outreach program is going out to homes in Dominicalito and interviewing family members with regard to their medical histories. The visit to the clinic in Uvita is an opportunity for students to shadow Dr. Bamboa and see how medicine is practiced in a small rural setting.
Additional activities that can sometimes be arranged in the area are: visit to a local hospital emergency room and a visit to a local medical plant farm. However, these activities are NOT a part of the regular Medical Spanish Program and have additional costs associated with them.
Medical Spanish program, Turrialba
Contact: Dr. Catalina Casasola Vargas
Location: Doctora con consulta Privada
Address: Codigo Medico: 13446, Turrialba
Program Overview
Students in Turrialba can choose to combine 16 or 20 hrs/wk of group Spanish lessons with 4 hrs/wk of medical Spanish lessons + 1 medical specific activity. The school has a mock clinic on campus and host family members come to be interviewed by students. We also have the ability to visit a local senior hospital.
Turrialba is a very immersive, non-touristy town. There is a local public hospital and many clinics and pharmacies. There is also a campus of the University of Costa Rica and the tropical research center CATIE. Some of our host families include medical professionals. Out of the local population of 35,000+ there are very few who speak any English.