San Sebastian
Program Outline
Our campus in San Sebastian offers 4 types of Intensive and Long Term courses in addition to the many special and interest packages we offer. Our teachers are fully trained and qualified native speakers, all specialized in the teaching of Spanish as a foreign language. Teaching is based on communicative methods. Each class lasts 45 minutes. Maximum of 12 students per class. Here is a look at the 3 principal courses offered in San Sebastian.
Intensive 20 is a program of 4 daily classes, each lasting 45 minutes. While the maximum class size is 12 students, the average usually is between 7 and 9. The minimum age for students is 17 and the objective of the class is to provide the student with a firm grasp of general Spanish. Classes begin at 9:30 or 14:30, and breaks are provided.
Intensive + 1 is based on the same model as Intensive 20, with the inclusion of 1 daily private lesson for the student.
Intensive + 2 is also based on the same model as Intensive 20, with the inclusion of 2 daily private lessons for the student.
Other Courses
We offer a wide variety of certification and special interest courses.
Training Courses: Executive Crash Course, Methodology and Culture Course for Teachers, and a Teacher Training Course help professionals improve their careers.
Interest Courses: Cooking, Surfing, and Work Experience courses are all offered as well.
Location
Our campus is located within a 5 minute walk to the center, next to a big park. They are set in a newly furbished building dedicated to service based businesses. In 2004 we expanded the school. Now we have 17 classrooms, a screening and meeting room, a terrace double the size and more reception, more office space and more computers with internet access for students.
Accommodation
We believe that suitable accommodations are as important as first class teaching facilities. We can arrange families, student apartments, hotels and hostels for our students. We also offer rural housing and camping options for students who come with a vehicle. They can choose one or combine more than one option during their stay.
We have been operating here in San Sebastian since 1954, and have therefore built excellent ties in the community. We have access to excellent accommodation in private and shared apartments, and families. These families are chosen carefully and monitored through regular inspections and feedback from students. Living with a family is a guaranteed way to practice the language and to learn other aspects of Spanish culture. All accommodations are walking distance from classes.
Cultural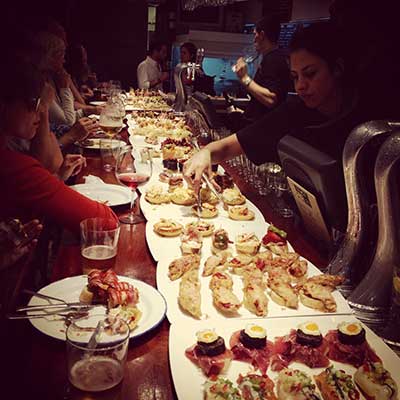 In San Sebastian an extensive offering of cultural activities is provided:
Welcoming and departure parties.
Tour of the City: La Parte Vieja, Barrio Gros, the beautiful beaches, monuments and museums.
Day trips to Bilbao, Pamplona, Biarritz, San Juan de Luz, Loyola, Oñate, Zarauz, Gernika, Guetaria, Fuenterrabía
Theatre and concerts.
Sports activities and games, such as beach volleyball, kayaking, and cycling.
The World Famous International Film Festival held annually in September
Lunches and dinners to enjoy the renowned Basque cuisine
"San Sebastian Day" held in January, is a raucous festival that sees the whole city party until daylight.
Start Dates
Start dates for beginners are every first Monday of the month only. All other students with a higher than abject beginner level can start on the first, third or fifth Monday of every month except January.
Climate
San Sebastian enjoys a moderate maritime climate. During the summer the average temperature is above 20°C, with the autumn and spring average falling between 12° and 16°C. The average daytime winter temperature is 8°C.
Local Color
San Sebastian is a lively city of approximately 200,000 inhabitants, some 17,000 of them being university students. It is the cultural capital of Basque country, and famed for having the finest cuisine in Spain. It is recognized for its International Film and Jazz Festivals and is located a mere 20km from the French Border and Pyrenees Mountains. The Old Part (Parte Vieja) boasts a nightlife that can rival anywhere in Spain, while the beaches and surfing culture is something that cannot be missed.
Points of Interest
The Historic City Center; the Buen Pastor Cathedral, the Culture Houses, the Plaza de la Constitución, the Kursaal Theatre (home of the film festival), and the new Chillida Museum. Leaving the center of the city, students should stroll along the Paseo Marítimo (Promenade) to stunning beaches of La Concha, La Zurriola, and La Ondarreta. San Sebastian's maze of incredible restaurants and pincho bars can be found dispersed throughout the city, with a particular concentration in the Parte Vieja and the Barrio Gros. San Sebastian's proximity to the famous Running of the Bulls in Pamplona, and Bilbao's world famous Guggenheim Museum also make it a worthy destination.
Hot Tip
Our newly renovated facilities feature a terrace with coffee and snacks for students to enjoy on their breaks. We are less than a 10 minute walk from the beaches, bus and train station. For surfers, this is the best place in Europe to be. Mundaka, Zarauz, Biarritz, Hossegor are all less than one hour away in bus or train, and this goes without mentioning the fantastic surfing right here in San Sebastian.