Madrid (Central Spain)
Program Outline
We have two intensive language courses with eight different levels. The Intensive course is a program with 4 hours of class a day. Classes begin at 9:30am and end at 1:30pm with a 30 minute break. The program progresses through a range of new grammar topics every week but always with a focus on developing your conversational skills. Classes are characterized by a high level of interaction, student participation and situational exercises that help you to express yourself competently in a Spanish speaking environment. Each block of two class hours is taught by a different teacher. Please note that when the school is busy, classes can also start in the afternoon at 4:00pm
Super-intensive course is a six-hour/day program. This program consists of the intensive course + 2 class hours of additional Spanish conversation training from 2:15pm till 4:00pm to help you improve your oral comprehension and expressive skills.
Location
Our school in Madrid in centrally located near to the famous Prado museum and Retiro Park. Only a short walk away from the busy Plaza del Sol. Madrid is Spain's capital and as such there is a wealth of things to do and see.
Accommodations
We have a wide range of accommodation able to suit the needs of everyone. Students can choose individual rooms in shared flats with other students, a homestay with a Spanish family or stand alone apartments for complete privacy. All housing options are within a maximum of 30 minutes by public transport from the school. Students who stay with Spanish families will have private rooms and half board or breakfast. Laundry service once a week is also included.
Cultural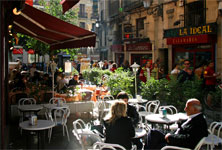 Madrid is the melting pot of the Latin world where people from all parts of Spain and South America have made themselves a new home. As the capital of Spain it is the governmental and commercial centre where you can find everything Latin under the sun: fascinating museums, first class restaurants, great nightlife (be prepared to change your body clock) all set in a very inviting and friendly ambiance. The school organizes weekly culture classes (free) and offers as well daily and weekend activities (at nominal fee).
Start Dates
Classes start every Monday of the year for students with some Spanish ability and every second Monday for absolute beginners. The last week of December and the first of January, the school is closed.
Climate
Madrid is very warm in summer and generally fresh in winter with temperatures on some days below freezing in January and February. The low humidity makes the climate however very bearable.
Local Color
The capital of Spain since 1562, located in the heart of the peninsula and right in the center of the Castillian plain 646 meters above sea level, has a population of over three million. A cosmopolitan city, a business center, headquarters for the Public Administration, Government, Spanish Parliament and the home of the Spanish Royal Family, Madrid has something for everyone. Madrid is has culture, art, shopping and a very lively nightlife!
Points of Interest
Start on the Puerta del Sol in the centre of town and step with both feet on the "kilómetro cero" tile. As you may have guessed, it is from this tile that all distances throughout Spain are measured. Continue to the Plaza Mayor around the corner (and smile because our Spanish language school is just opposite the square) and marvel at its grand architecture and street artists. Next stop could be the Prado, Thyssen-Bornemisza or Reina Sofia museum to enjoy one of the finest selections of Spanish art in the world.
Hot Tip
Don't forget that football is king in Madrid and everyone (yes, everyone) has a strong opinion about what their football team (most likely to be Real Madrid) needs to do next. Try to attend a game in the stadium—or share the noise in a crowded bar—to soak up what it truly means to be a "socio" or fan.