Parque Nacional Marino Golfo de Chiriquí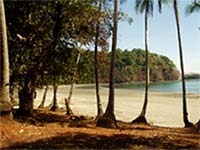 Parque Nacional Marino Golfo de Chiriquí is a 14,740-hectare marine park that encompasses two dozen islands and their surrounding waters. The park is a refuge for all kinds of wildlife, including howler monkeys, leatherback and hawksbill turtles, and tiger-herons.
It's a bit of an adventure to get to the islands that start just off the coast east of David; that's half the fun of visiting this area. You get the sense of being in the middle of nowhere without actually being that far from civilization or having to spend a lot of money to get there. The easiest access to the islands is through the little town of Horconcitos, the turnoff to which is 40 kilometers east of David. From there it's a nearly one-hour drive on a rough road to the fishing village of Boca Chica, then a short ride by fishing boat to Isla Boca Brava, the jumping-off point to the other islands. There are two quite unusual places to stay on Boca Brava, catering to clients traveling on budgets ranging from starvation to luxury.
If all this sounds more like fun than hassle, you have the right attitude to visit this place. The islands and ocean here are beautiful, and you can enjoy them with a certain degree of comfort while being quite intimate with nature. But be prepared for it to be off the beaten path.
Another plus about this whole region: Dry season tends to start earlier than in other parts of Panama, around November, and ends at about the same time, in April.
Isla Boca Brava
Isla Boca Brava is the first island you'll come to, and it's most likely where you'll be staying. The island is 14 kilometers long, six kilometers wide, and overflowing with wildlife. It's right on the edge of the park.
From Boca Brava you can explore an endless maze of mangroves in the estuaries of several rivers that empty into the sea here. Or you can snorkel and swim in the clearer waters of the surrounding the islands, including idyllic uninhabited ones. The closest are Linarte, Saino, and Las Ventanas (ventana means window; the name refers to the caverns that run straight through their rocky sides).
The best islands are farther out. The snorkeling is decent around Isla San José, a short boat trip away, but it's definitely worthwhile to head out even farther. Isla Bolaños is 13 kilometers from Boca Brava, about 45 minutes by small boat equipped with a decent outboard motor. This is a lovely little deserted island with a couple of sandy beaches, lots of coconut palms, and snorkeling when the tide's low. It's easy to arrange a camping trip here. Twenty minutes from Bolaños is Isla Gámez (sometimes spelled "Gámes"), also lovely and even smaller. This one, however, tends to attract yachts and the weekend personal watercraft crowd, while Bolaños is rarely visited. Both these islands are tended by the nonprofit environmental group ANCON.
Other Islands
The biggest island here is Isla Parida, just across from Gámez. It's an inhabited island. There's an ANAM station on Parida next to a bunch of ramshackle huts. You can spend the night at the station, but it's hard to see why you'd want to.
The scuba diving is said to be terrific around Islas Las Ladrones and Islas Secas, where the water is clearest and the sea life the richest. The diving visibility is supposedly up to 30 meters at Las Ladrones. The islands are very far away: Las Ladrones are 40 kilometers southwest and the Islas Secas 30 kilometers southeast of Boca Brava. Do not attempt to go this far on the open sea without something more substantial than the little pangas common around here. If you do find a way to get there, the snorkeling is supposed to be good, too. A high-end resort on the Islas Secas was recently completed out here, which, though expensive, is by far the easiest way to visit the islands.
Sports and Recreation
How to get to all this stuff? This area is not exactly crawling with tour operators. Best bet for an economical tour is Restaurante y Cabañas Boca Brava (tel. 676-3244), which offers a wide variety of boat tours to all the attractions in the area. A half-day snorkeling and hiking trip to Isla San José, for instance, costs $25. A night tour through the mangroves to search for caimans is $30. A grand day-tour of all the major islands, including Bolaños and Gámez, costs $85. An expedition all the way to Islas Secas costs $110. Prices are for up to four people; there's a slight additional charge for an extra person. Snorkels and masks can be rented for $1.50 and bodysurfing boards for $2. There is also a $3 per person fee to enter the national park. The folks at the restaurant should also be able to fix up those who'd like to camp on an uninhabited island. They can supply tents and food and boat transportation to and from Bolaños. (Keep the food away from the island's voracious crabs.) Price varies depending on the number of people and provisions required.