Cuenca
Program Outline
The Intensive Course includes 20 Spanish lessons per week (1 lesson = 45 minutes) and 5 Culture lessons per week. There is a maximum of 4 students per group in Spanish lessons and books and material required for the course.
The Intensive plus Course is offered throughout the year. It is aimed at students who wish to improve oral or written Spanish, specific terminology, learn business language, etc. It has a total of 30 lessons per week. It's an Intensive Course (20 lessons) + 10 lessons of "One-to-One" (Private tuition).
The Private Four Hour Course is also available. This is 20 hours per week of private one-on-one with a teacher. All course materials are included as well as 5 cultural lessons per week.
Homestay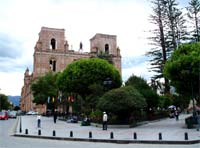 We attach great importance to our accommodations. The families are carefully selected and screened. Living with an Ecuadorian family allows the student to integrate him or herself into local everyday life and practice their Spanish in different situations. We have chosen upper-middle class families which welcome the student as if he or she were another member of the family. Students have a private room, at times with a private bathroom, and will eat the three main meals of the day with the family. Laundry is also included. If you are not interested in staying with a host family, we do have an apartment option. For $10/week more you can stay in our Otorongo apartments. There are no meals included, but students share a common area that includes a kitchen and living area.
Cultural
The special activities programmed for the evening are designed for students to acquire a better understanding of local culture. The School invites its students to take cooking classes to learn the local dishes and to take regional and Latin American dance classes, and to participate in special crafts workshops. The school also offers a culture program with formal lessons, visits to museums and other activities. Students are also invited to exhibits of painting, photography and sculpture. We also handle arrangements to go to plays, films, concerts, sports and other events. Special activities are announced weekly on the School bulletin board. Despite the fact that it is a small city, Cuenca is rich in cultural activity.
Location
Cuenca is the cultural capital of Ecuador and its third largest city. It is also Ecuador's best kept secret, not least because Cuenca and its surrounding region are rich in history, with a colonial atmosphere that has survived thanks to years of almost complete isolation. Cuenca is a city of fascinating contrasts just waiting to be discovered. Two universities, museums and art galleries stand alongside with Indian markets rarely visited by foreigners. Exploring this delightful Latin American city and getting to know its friendly people will make you want to stay forever. The school is situated in a detached building overlooking the Tomebamba River in the city centre. It has seven classrooms, a small garden, common room, library and video room.
Climate
Cuenca is located at 2,500 meters above sea-level and enjoys a relatively stable climate year round. Morning temperatures are around 6°C (42°F) or 7°C (44°F); midday temperatures range from 18°C (62°F) to 24°C (75°F) and evening temperatures are between 12°C (53°F) or 13°C (55°F). It is spring-time weather with occasional showers and midday sun.
Local Color
The city is famous for hosting the Cuenca International Art Fair. The most impressive of the city's many museums are the Banco Central, Casa de la Cultura, Conceptas Convent, Remigio Crespo Toral, Artes Populares de América, Arte Moderno, and Instituto Azuayo de Folclore. With so much cultural heritage to offer, it's no surprise that Cuenca was chosen as the Cultural Capital of the Americas in 2002.
Start Dates
Students with some ability in Spanish can start any Monday of the year. Beginners must start on the following Mondays only: JAN 8, 15 & 22, FEB 5, 12 & 19, MAR 5, 12 & 19, APR 2, 9, 16 & 23, MAY 7, 14, 21& 28, JUN 4, 11, 18 & 25, JUL 2, 9, 16, 23 & 30, AUG 6, 13, 20 & 27, SEP 3, 10, 17 & 24 OCT 1, 8 & 15, NOV 5, 12 & 19, DEC 3 & 10. The following are all Ecuadorian national holidays. There are no classes on holidays and there is no refund of the missed time. FEB 27, APR 6, May 1, MAY 24, AUG 10 & OCT 9. The school will be closed from DEC 21, 2007 until JAN 8, 2008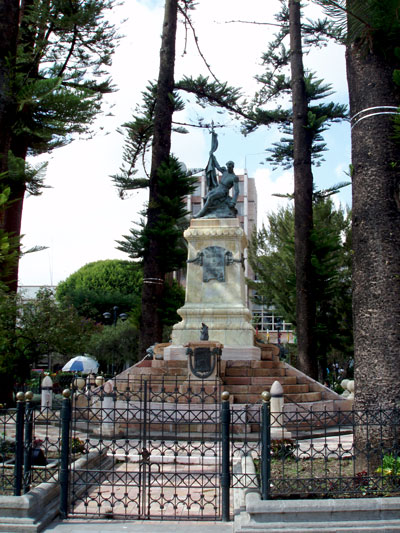 Main Points about Cuenca
The kindness and hospitality of the "Cuencanos."
Its colonial heritage and local color.
Its mild year-round climate.
The beautifully spoken Spanish.
Its magnificent surroundings.
Wireless Internet access at the school.
An authentic taste of Latin America.
Cuenca is a very immersive location with very few people speaking any English.
A magnificent combination of the colonial and the Native American cultures.
Great place to buy authentic arts and crafts at low prices.
The school is housed in a beautiful 300 year old brick building.